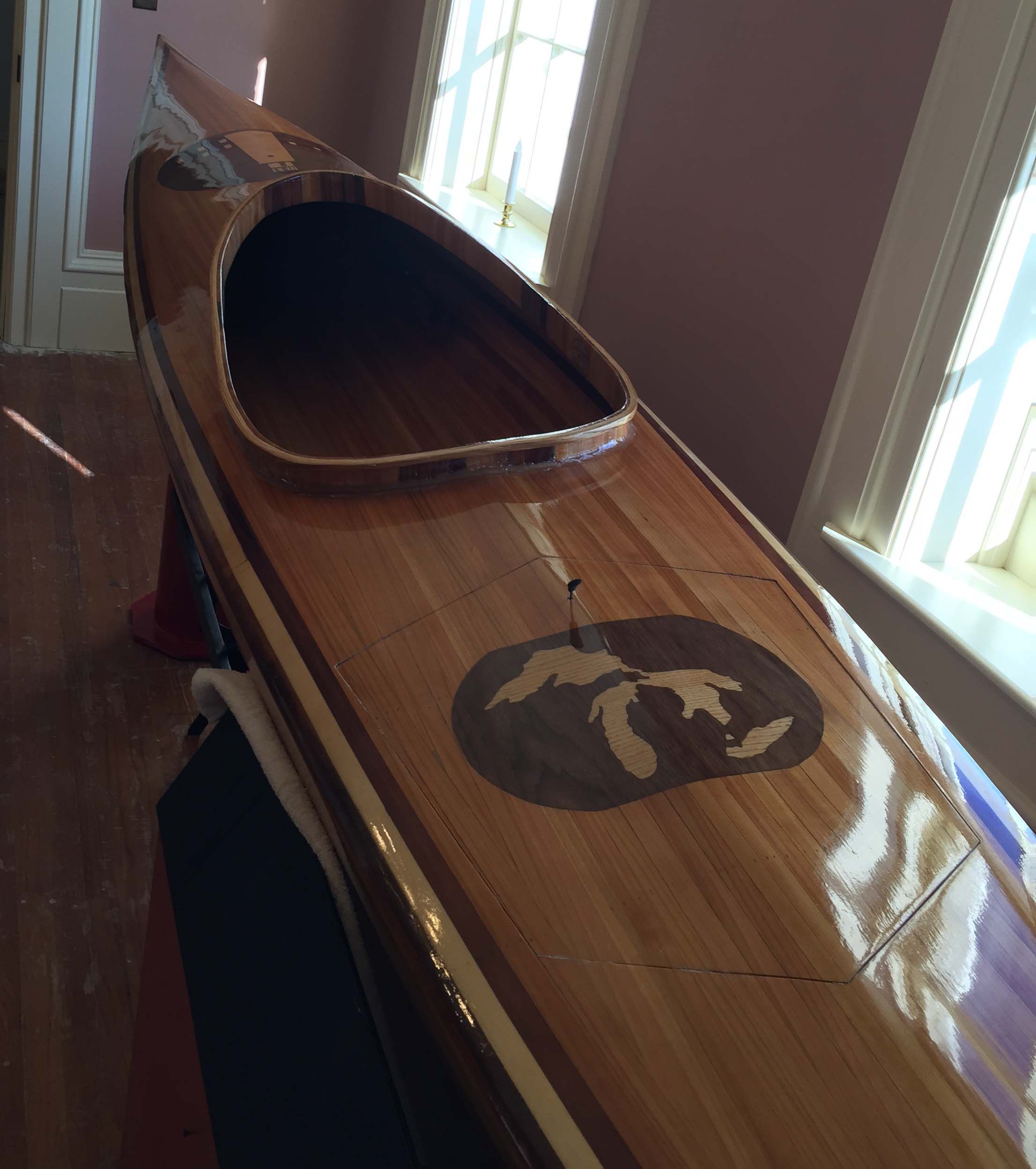 The Lighthouse Kayak raffle is a fundraiser for restoration efforts at the Fort Gratiot Light Station County Park.
Commissioned under the Mackinaw Watercraft Community Support Program this one-of-a-kind kayak will be raffled off as a fund raiser to support the Fort Gratiot Light. The Looking Glass model recreational kayak sports inlays on the fore and aft decks – one the state of Michigan and the other is the Fort Gratiot Light Station. The decks and hull are crafted from Northern White Cedar with California Redwood trim. Weighing just 28 pounds this vessel paddles as good as it looks. Raffle tickets are $20 each and the raffle is limited to 500 tickets. The drawing will be at Blue Water SandFest on July 14, 2019.
Mackinaw Watercraft designer Allen Deming created his representation of the Fort Gratiot Light and keeper's house in a rustic or primitive motif using wood veneers of varying species.  As the focal centerpiece of this kayak the tableau is inlaid on the foredeck. The inlay of the Great Lakes is an original Allen Deming creation made using Walnut and Red Oak veneers and is on the rear flush mounted hatch.  No stains, paint or dyes were used on this boat to achieve the creative look.
As beautiful as she looks, this kayak is built to the same tough standards that have come to be recognized in Mackinaw Watercraft vessels.  Using multiple layers of fiberglass and epoxy resin in all of the areas where contact and stress might be expected this boat will stand up to the rigors of everyday use.  With proper care maintenance she can be expected to last nearly as long as her namesake.
After a long career in corporate sales and marketing Allen Deming began a second career as a wooden boat builder.  Bringing the same passion and creativity to boat building that made him a success in the corporate world Allen has become one of the best known modern small boat builders in America.  His award-winning designs and artistic creations are sought out by paddlers and art collectors alike.  Deming's canoes and kayaks are some of the most popular at wooden boat shows and have been featured in fine art and maritime museums as well as some of North America's most prestigious art competitions including ArtPrize 6, ArtPrize 7 and ArtPrize 9.  He is pleased to have been chosen to create this kayak for the Friends of the Fort Gratiot Light.